The Technology Select Sector SPDR ETF (XLK) has fallen over 20% from its highs set formerly in 2018, which is usually a good enough pullback to resume a bullish uptrend. So, the question is, is it time to start buying the dip in technology stocks again? Or, is this the actual beginning of a bear market?
In order to better ascertain as to whether or not now is the right time to start buying, investors need to know more about the holdings of XLK. After all, the economy is strong according to widely used metrics. GDP is growing at about 3%, interest rates are historically low, employment numbers are near all-time highs, inflation remains low, and wage growth is keeping the consumer spending (70% of GDP derives from consumer spending).
However, a strong economy will not prevent computers and algorithms from taking advantage of bearish a situation, which is exactly what is occurring. As the Federal Reserve raises rates and forces companies to deleverage their balance sheets, fear that an economic recession will ensue is allowing algorithms to bully investors into liquidating their positions.
So, if the economy is strong, and this selloff is just technically driven, investors may need to do old-fashioned analysis in order to pinpoint just how much selling pressure is left. In other words, a more thorough breakdown of XLK is needed, which can only be done by combing through its top ten holdings one by one, starting with Microsoft (MSFT), which represents over 18% of the fund.
XLK Summary
To begin, XLK's main strategy is outlined below, which states:
The investment seeks investment results that- before expenses- correspond generally to the price and yield performance of publicly traded equity securities of companies in the Technology Select Sector Index. In seeking to track the performance of the index- the fund employs a replication strategy- which means that the fund typically invests in substantially all of the securities represented in the index in approximately the same proportions as the index. It generally invests substantially all- but at least 95%- of its total assets in the securities comprising the index. The fund is non-diversified.
XLK's expense ratio is extremely low at .13%, and the fund even has a 4-star rating from Morningstar. So, these are always a welcome sign when selecting ETFs. Let's take a look at XLK's holdings now for a deeper dive into the fund.
XLK Overview
Investors should enjoy the fact that this predominantly tech weighted fund has financial holdings (about 12% of XLK), because it provides diversification along with strong growth opportunities.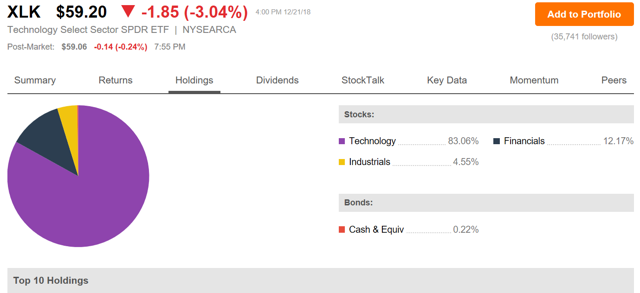 Source: Seeking Alpha
XLK Holdings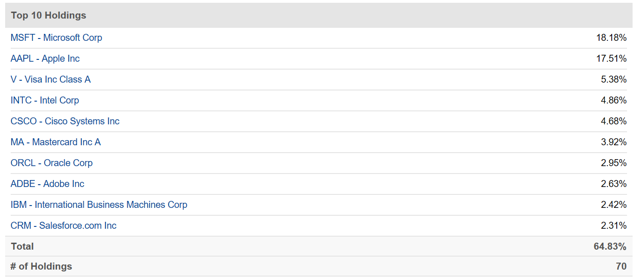 Source: Seeking Alpha
At first glance, when people see a chart of Visa (V) or Microsoft, they notice the huge run made and are somewhat amazed out how these dinosaur, large cap companies are still doubling their share price in under two years.
Honestly, I had to ask myself, will the XLK even return to its former highs? How could MSFT, Visa, or any of these other holdings in XLK, for that matter, pull off the rare feat and double again?
The answer lies in the fact that when the internet came around, smaller, less cumbersome devices were invented, such as the smart phone, tablet, and even smart television, that reinvented these large caps.
During the glory days of these companies, many homes came with only one or two computers, along with one or two archaic television sets. Now, everyone in the house gets a smart phone, tablet, and smart tv, it seems. This allows giant chip makers like Intel (INTC) to put a chip in potentially every one of these new markets, and reinvent themselves.
Best of all, the consumers can carry these devices anywhere, and essentially live online. This creates a new marketplace for the consumer and eliminates wasteful time from buying and selling, for example, since they don't have to get in their car and drive anywhere anymore.
Companies like Amazon (AMZN), Mastercard (MA), and Visa are capitalizing on this trend of course, as transactions move online. All of these devices need to store sensitive information, so the cloud has also emerged, which is another multi-billion dollar industry that is boosting a company like MSFT's earnings. So, these new trends in tech are providing older companies with a new lease on life that should last for decades.
Other businesses are driving MSFT's earnings, though, and need to be discussed, again, due to the fact that MSFT is XLK's largest holding.
Microsoft's Revenue Segments
The brilliance of MSFT can be found in their self-sustaining ecosystem that eliminates competition from rival companies between various components of the devices.
Their prized, Windows 10 operating system, for example, can still have a home with traditional computers in the workplace. But, now every tablet of Microsoft's is compatible with Windows, such as Surface Go, which ensures continual demand for their products. MSFT actually has five new Surface categories to offer the public in 2018, and Christmas sales, in particular, should act as a catalyst for shares.
These services, in turn, need to operate online and through Microsoft 365, conveniently, customers now have access to the cloud. Then of course, in order to make this process with cloud computing more efficient, MSFT has turned to Dynamics 365, which is an AI-powered feedback loop that provides predictive power to make experiences better for users. This Dynamics business, alone, is expected to generate $2.5 billion in 2018 for MSFT, which is nothing to scoff at.
When spending time online, entertainment rules. This applies, especially, to the younger generations. MSFT has their award-winning Xbox gaming platform for that, which has over 2 billion gamers that span across the globe. Xbox is also generating revenues by releasing new content through Game Pass and Xbox Live, which has 57 million active users who can now access hit games like Fortnite and Minecraft on a daily basis. Project xCloud even allows consumers to play these games wherever they want.
Whenever these younger generations decide to get a job, Microsoft can direct them to their LinkedIn platform. While revenues from this platform are small at the moment, the personal information found in the database of LinkedIn is extremely valuable for MSFT, as they can potentially connect users to the job that is right for them. MSFT apparently saw record job postings in the recent quarter, and this trend is expected to continue. So, the potential for MSFT's LinkedIn could be a game changer one day if properly monetized because, after all, most people will work a job in their lifetime, one way or another.
Microsoft's Financials
All of these revenue lines sound great for MSFT. But, let's get down to business. Is MSFT making any money? Revenue was $29.1 billion in the previous quarter, which was up 18% in constant currency. Net income was $8.8 billion, and that was a 34% increase.
Commercial cloud revenue represented $8.5 billion of that $29.1 billion number, for example, as it grew 47% and 46%, both, at home and abroad. So, these are serious numbers, and they should only continue to grow as new products are launched, and favorable IT spending trends from a bullish macro environment persist.
One more thing to point out is that MSFT's double-digit growth rate makes their 23x P/E multiple look reasonable, since their growth rate represents more than half of the P/E, which results in a favorable PEG ratio. This means MSFT's valuation is still cheap, and is somewhat justified in remaining at these elevated share prices.
Risks
Besides the typical macroeconomic and FX currency risks that MSFT is exposed to, cybersecurity is always an issue that threatens the business environment. Microsoft claims that their security is top-notch, and a differentiator from peers:
Microsoft Security differentiation is based on two things: first, our unparalleled operational security posture, second, our comprehensive product suite spanning identity, information, application and device protection.

Supposedly,

Microsoft 365 can even detect, investigate and remediate sophisticated cybersecurity threats across every endpoint, saving IT professionals thousands of hours.
So, these differentiators, along with Azure Confidential Computing, should provide unparalleled protection for the sensitive data of end users.
Conclusion
The XLK has had over a 20% correction from its highs, and has more room to fall if Microsoft caves. This seems unlikely due the strong earnings generated by MSFT, which are expected to continue not only in the coming quarters, but for the next few decades, as consumers routinely update their older devices.
However, one can never underestimate the indiscriminate selling in the stock market, as all ships rise and fall with the tide. So, while XLK looks attractive after the recent 20% decline, money management will be key in order to protect from a possible delayed fall by MSFT, which has the potential to drag the ETF down with it.
As a result, I have half of a position on the table now in XLK shares around $60, and will buy the next round in the $40s and $50s if the opportunity arises.
Disclosure: I am/we are long TECL. I wrote this article myself, and it expresses my own opinions. I am not receiving compensation for it (other than from Seeking Alpha). I have no business relationship with any company whose stock is mentioned in this article.