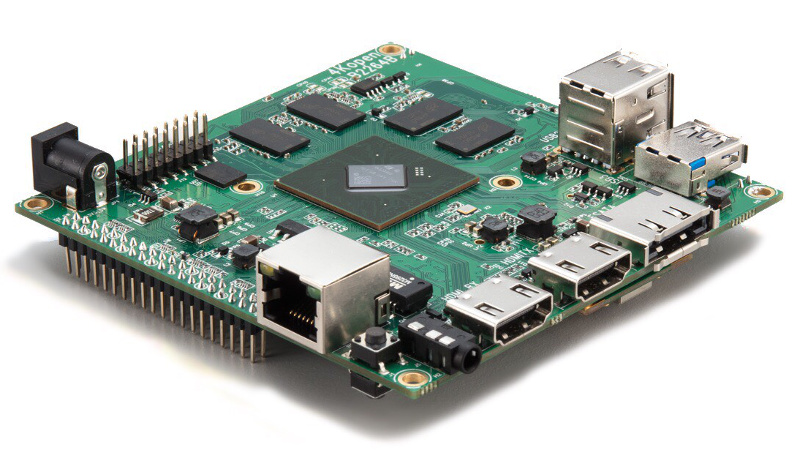 Enter the 4Kopen competition »
4Kopen is an open single board computer based on STiH418, a premium, high-performance multimedia chipset capable of decoding and displaying multiple streams up to full UHD content. Features include HDMI video capture together with HW encoding for processing and streaming video content, and fully open hardware and software including Linux kernel, drivers and full distribution together with industry standard APIs.
The idea is that you can build your own version customised for your applications, such as those involving video equipment, digital signage, media players or video surveillance. Full support for the board, including documentation and wiki, is available on www.4kopen.com.
Note that the final deadline for entries is Thursday 28 February 2019.
Key features:
Quad core ARM Cortex A9 & MALI GPU
Memory: 2 GB DDR3
4K 10 bit HEVC/VP9/H.264 accelerated decode
Up to 4 x 1080p30 video transcoding
H.264/VP8 video encoding
HDMI Tx at 2160p60
HDMI Rx at 2160p30 for video capture
Interfaces: 40 pin GPIO; WIFI, Gb Ethernet – USB 3.0/2.0; eSATA, Mico SD – DVO + touch screen
Linux distribution including open source drivers
Datasheet & hardware design files for customisation
Ts & Cs
For a chance to win, simply enter the form below, or visit the main compeiotion page.
Terms and conditions are detailed below the entry form. Note, also, that you do have to supply some details to MathEmbedded to enter the prize draw.
Good luck to all who enter!