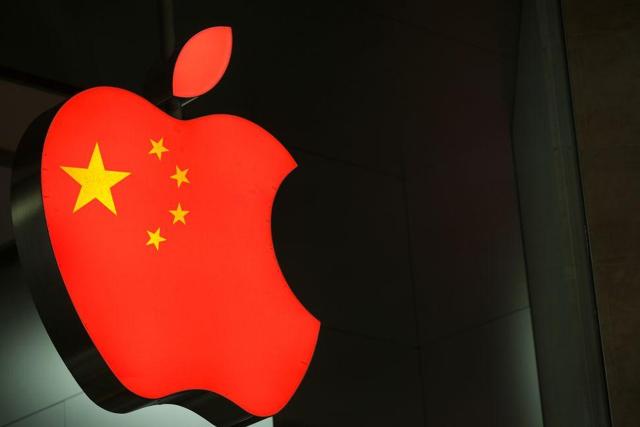 Source: Observer
Apple (AAPL) shares have pulled back about from their recent high. Trading at an attractive forward earnings multiple, with a $100 billion buyback, I believe downside is limited. China not only needs Apple, but it relies heavily on Apple. An attack on Apple would be a last resort, and considered an attack on America's largest corporation. Retaliation would happen and cause a larger fallout than China would have expected.
Apple Pulls Back
Apple recently traded down from its highs. Every time there is an announcement in relation to trade, Apple shares sell off.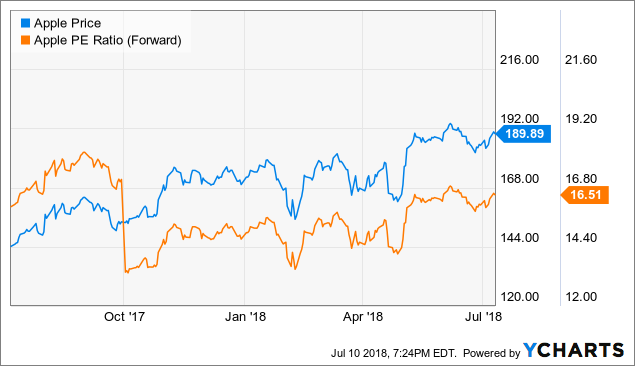 AAPL data by YCharts
With Apple now trading at 16.5x forward earnings, the shares trade at a higher than usual forward multiple. However, the company has instituted a huge buyback that will create not only demand for shares, but support from any real pullback. Investors should take advantage of a company that generates such large cash flows, that it can constantly take advantage of its own negative stock price action.
For investors who missed the opportunity last time shares fell, now could be the chance to get a large consumer goods/technology company with capacity for growth. Tonight, July 10th, 2018, the Wall Street Journal reported that the White House is considering an additional $200 billion in tariffs against China. Due to this announcement, we should expect further weakness in shares, at least until the issues are resolved. Let's take a look at what can support the stock price in the meantime from falling too much.
Apple has done a tremendous amount of share repurchases over the past several years, and recently announced a new $100 billion buyback. This should further cushion the downside against any pressure.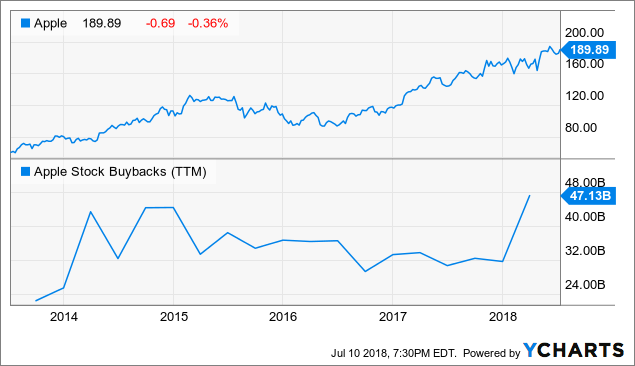 We can see that Apple is a consistent buyer of its own shares. Not only that, it is the largest purchaser of its own stock out of any corporation, ever. Even as the stock price rises, Apple continues to find value in its shares. This shows Apple management continues to believe in the fundamentals of the company, and so far has been right in acquiring shares at much lower prices.
Let's quickly look at the market caps of companies that are less than that of the recently announced $100 billion buyback.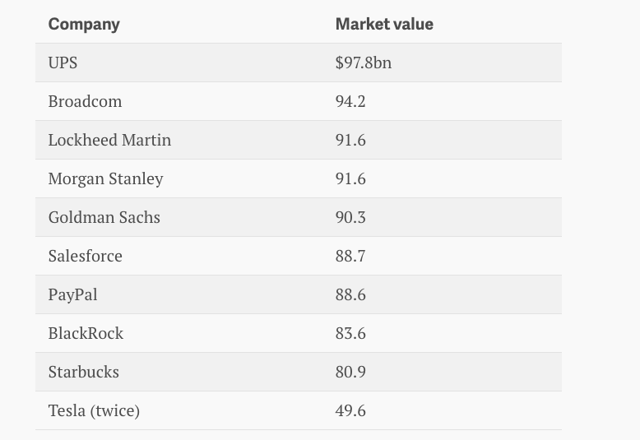 Source: Quartz Media
It should be noted that since this list was published, market caps have changed. However, Apple could have twice bought Tesla (NASDAQ:TSLA), Starbucks (NASDAQ:SBUX), legendary investment banks, or even a whole shipping company. The number should not be looked upon in any other way than astounding.
This is slowly reducing the shares outstanding and making shareholders a larger owner of the corporation at no additional cost to them. Alongside this, we have seen a nice growing dividend with the recent raise of 16%. Although not quite a yield play, it will continue to be a dividend growth story for years to come. Investors buying shares today will realize a future yield on cost significantly greater than today. Now that we know we have some guaranteed return of profits, a review of the fear causing downward pressure is necessary.
Apple Supply Chain
Apple actually produces its products in China. While it sources the parts from various other countries, China is its point of manufacturing.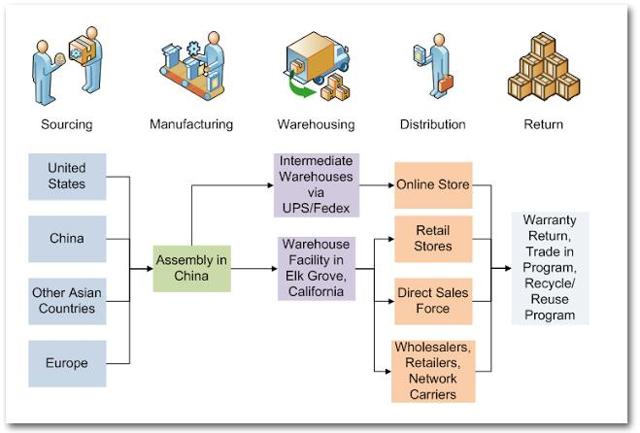 Source: Supply Chain 24/7
Since Apple manufactures in China, its point of distribution for that country exists within it as well. Because of this, Apple would not need to import the physical product where it is made, and implementing tariffs would be quite hard if not impossible. The only way to really hurt Apple would be to enact a tax at the consumer level, which would hurt the Chinese consumer. A greater tax to the Chinese consumer would probably lower sales of Apple products, but would also impede upon the consumer having access to great technology. Furthermore, China relies heavily upon Apple in its employment of citizens, and hurting Apple sales will only lead to a negative effect for the Chinese workers.
China Needs Apple
While Apple has been growing revenue in China, it accounted for $13 billion in Q2 2018, up 21% year over year. More on the quarter can be found here. This was only about 20% of the total revenue for the quarter. While yes, this is large, I don't believe Apple will suddenly stop growing market share and revenue due to Chinese nationalism or trade war talk. Even if revenue growth slowed to a halt, the business would still probably generate a consistent $13 billion in revenue for the remainder of the year, still representing growth year over year.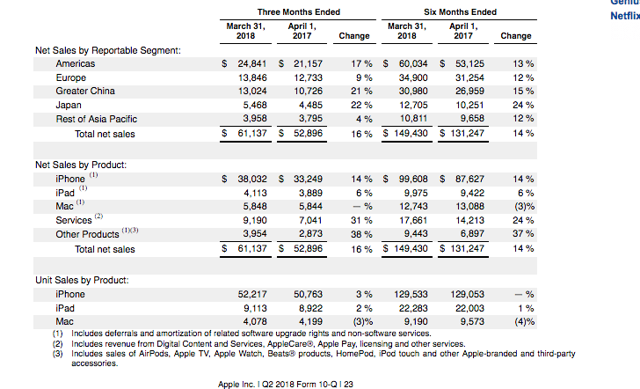 Source: Apple 10Q
As we can see, China is a strong growth factor for Apple, and this growth would be hard to slow down. While Apple is heavily reliant upon revenue from China, looking to see how much China needs Apple is just as important. It is a great way to predict if China would ever truly try to impose Apple.
Apple has by far more suppliers in China than the rest of the world. An impact upon its sales would surely cause a slowdown at suppliers leading to layoffs. Not only would layoffs take place, reducing Chinese employment numbers, but this would reduce Chinese GDP growth.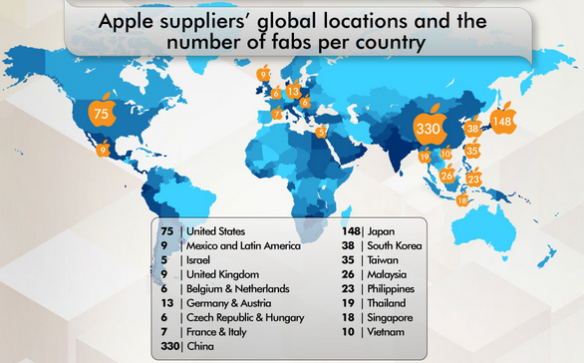 Source: SMBP
If demand drops due to a slowdown in China, it would also reduce the need for as much supply and production. Apple currently supports more than 1.8 million jobs in China through its iOS ecosystem. So a significant cut to its suppliers and manufacturers would negatively effect Chinese employment. It also is found in an article by 24/7 Wall Street that it supports another 12,000+ jobs through its stores and operations.
If China decided to really go after Apple, it would only reduce the number of jobs needed to support Apple. Furthermore, we could see Apple move its manufacturing to other nations if necessary, such as Taiwan, at little cost to the company.
Lastly, Foxconn (OTC:FXCOF), a large Apple supplier, could speed up the plans for a $10 billion factory it is building in Wisconsin to support manufacturing for Apple. In fact, it just broke ground recently. Once this factory is open, Apple then could further move production home and support more American jobs, taking away from the high level of support to China. More on Apple's job creation can be found here.
Conclusion
Ultimately, I don't believe China will go after America's largest corporation directly. In fear of retaliation on China's largest companies, I believe it will refrain from directly affecting a single company as large as Apple. China would recognize it's only alienating its own people and risking job loss. In a last resort, President Trump could protect Apple in a number of ways. Due to the large economic implications Apple has in our country, it is just as crucial for us to protect it from negative influence. Due to all of these factors, I don't believe Apple will be caught in the middle of a potential trade war. I believe any pullback should be used as an opportunity to pick up shares. I believe they will soon head over $200 as buybacks continue and the window of opportunity could be missed.
Disclosure: I am/we are long AAPL.
I wrote this article myself, and it expresses my own opinions. I am not receiving compensation for it (other than from Seeking Alpha). I have no business relationship with any company whose stock is mentioned in this article.
Additional disclosure: I am not a financial adviser, this article is an expression of opinion. All investors should perform their own due diligence before making any investment.