Apple (NASDAQ:AAPL) is sitting on mountains of cash in its balance sheet with a net cash position of $163 billion. In addition, the business generates over $52.3 billion in free cash flow per year.
With the new tax legislation allowing the company to repatriate cash held overseas at a conveniently low cost of 15%, management has already indicated that it will become cash neutral over time.
Apple will announce more details about its revamped capital allocation program in the coming earnings season but, historically, it is not particularly inclined towards big acquisitions, so chances are that a considerable share of that capital will be allocated to more share buybacks.
Detractors consider buybacks a financial maneuver to artificially inflate earnings per share by reducing the amount of shares outstanding. The proponents of share buybacks, on the other hand, highlight the fact that repurchasing stock can create a lot of value for shareholders when the conditions are right.
At the end of the day, when a company repurchases stock it´s essentially investing in its own shares, so it all depends on the particular case.
If the business is fundamentally solid and the stock is priced at reasonable levels, then management is making a sound decision by investing the company's capital in an asset with attractive expected returns, meaning the company's own shares. Conversely, if the fundamentals are deteriorating and/or the stock is overpriced, then share buybacks are clearly destructive in terms of shareholder value.
How Is It Working So Far?
To begin with, it's important to note that Apple currently has a share buyback program which has been in place since October of 2012, and such program has delivered impressive results for shareholders over time.
Since the inception of its share buyback program the company has repurchased stock for nearly $176 billion, while net income increased 21% and earnings per share jumped by more than 54% in that period.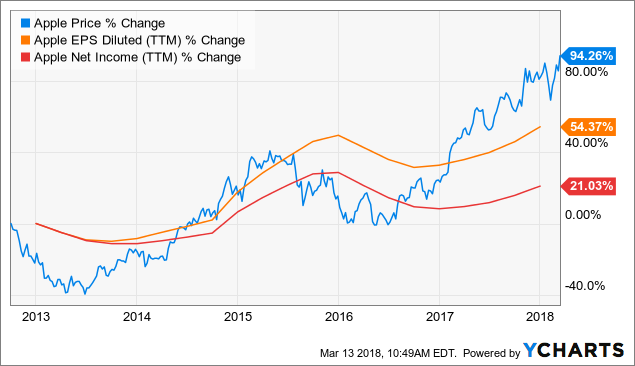 Apple stock is up by more than 94% since October of 2012, and it's currently trading at fresh historical highs in the neighborhood of $183 per share.
Regardless of your opinion about share buybacks in general, it's hard to argue against these numbers. Apple's buyback program has been enormously profitable for investors in the company so far.
Moving Forward
Apple's stock buyback program has created a lot of value for investors, and this speaks well about the company's management team and its ability to allocate capital smartly. However, investment decisions need to be made by looking at the windshield, not the rearview mirror. The fact that share buybacks from Apple have been a great move from the company does not necessarily guarantee that more buybacks in the future will also deliver solid results.
That acknowledged, when looking at Apple in terms of fundamental quality and valuation, there are valid reasons to believe that the stock is an attractive purchase at current prices, so an enlarged share buyback program would be good news for investors in the company.
Even if the stock is trading close to all-time highs, valuation is quite reasonable and the stock even looks undervalued considering the company's quality. Apple is trading at a price-to-earnings ratio around 18.6, a slight discount versus an average price-to-earnings ratio around 21.5 for companies in the S&P 500 index. Based on earnings estimates for the current year, Apple stock trades at a remarkably attractive forward price to earnings in the area of 15.7.
Importantly, valuation is not just about comparing valuation ratios in isolation. The price tag needs to be interpreted in the context of the company's fundamental quality, and Apple is an exceptional company when it comes to fundamental quality and profitability.
Apple is one of the most valuable brands in the world, and consumers are remarkably loyal to the company. In January Apple reached 1.3 billion units in its stalled based of devices around the world, a new record for the company and growing 30% over two years. The gargantuan size of the installed base bodes well in terms of renewal sales and opportunities for growth in services over the years ahead.
The company enjoys unparalleled pricing power in the industry, and this means superior profit margins in the long term. According to data from Canaccord Genuity, Apple retained a dominant 87% of all industry-wide profits in 2017.
The chart below compares key indicators such as revenue growth, net income growth, operating margin, net margin, return on assets and return on equity for Apple vs. the average stock in the consumer electronics industry. An image is worth a thousand words, and Apple is far superior to the average industry player across all of the indicators in the chart.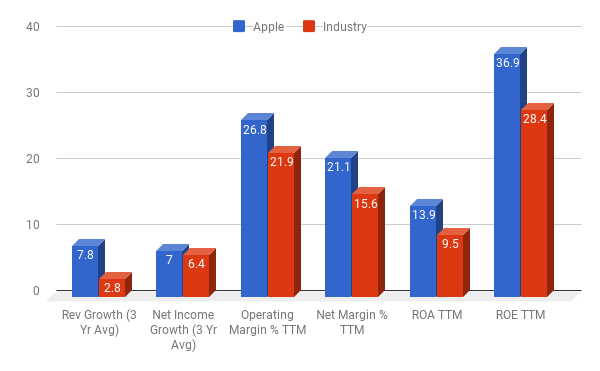 In a nutshell, Apple is a money-making machine, and the stock is priced at valuation levels which are quite attractive from such a profitable business. For this reason, an enlarged share buyback sounds like a smart move to create shareholder value over time.
Members in The Data Driven Investor have access to quantitative systems to pick stocks and ETFs with the potential to outperform the market in the long term. In addition, the service offers multiple strategies to protect your portfolio in bear markets, and members know in real time when I make a buy or sell decision for my personal portfolio. A free trial is available now in this link.
Disclosure: I am/we are long AAPL.
I wrote this article myself, and it expresses my own opinions. I am not receiving compensation for it (other than from Seeking Alpha). I have no business relationship with any company whose stock is mentioned in this article.